Saving a classical masterpiece - keeping the stories it holds
To start their 2019 events programme; a tour of Chiswick House was arranged by SAVE's Director Henrietta Billings, for their 'Friends and Saviours' in conjunction with one of their Trustees, Clare O'Brien, who is Director of the House and Gardens. The tour was full of insightful anecdotes and interesting information regarding the many different styles and influences adopted in the building and its interior decoration. "
One particular story which delighted me was to hear the story of the battle between comfort and art as manifested in the humble chimney
". Catherine Joyce, Digital Marketing Executive (Selectaglaze). Despite its drawbacks the structure proved to be highly influential in the emergence of the new 'Neo-Palladian' Style in England, Chiswick House is the creation of 'The Architect Earl' - Richard Boyle (3rd Earl of Burlington) and William Kent. From its inception to the current day, this building continues to intrigue and inspire. Boyle was influenced by the 16th century Venetian architect Palladio, who in turn, used classical Roman architecture for inspiration. Chiswick House was built between 1727-29 in the style of a Roman villa, with a few quirks and nuances to other styles too.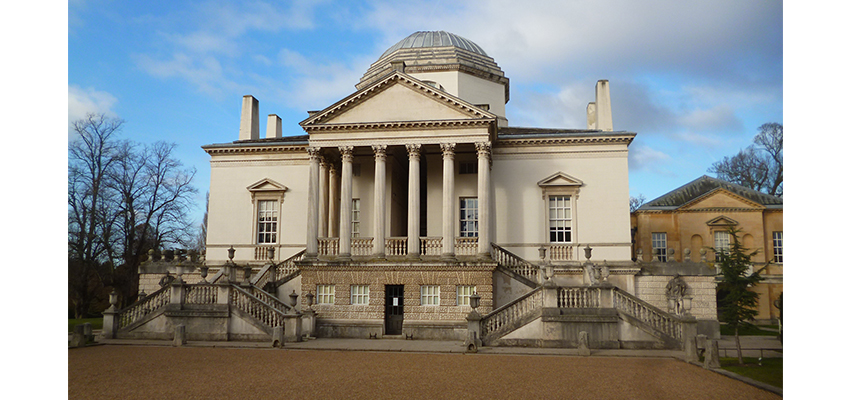 Chiswick House
Richard Boyle, the inquisitive student, was expected to undertake foreign travel known as the Grand tour, to round off his education. It was during his time spent in Italy that The Architect Earl developed a love of the classical world. Inspired by what he saw and read, this talented, wealthy man, strove to produce his own architectural interpretation and style. During his travels, he met and collaborated with the far less affluent but equally gifted fellow Yorkshireman and architect, William Kent, who helped him in this endeavour. The battle started as soon as people tried to use the magnificent Chiswick House. With high ceilings, huge windows and no means of introducing heat, the original design was built for an Italian rather than English climate. All attempts at using the space were hindered by the extreme discomfort within. Whilst the building from its inception proved to be a magnet to all art lovers; its actual use proved far less delightful. Extremely cold and draughty and arranged over two storeys, the villa is an expression of both men's love of the classical world. It didn't take long however before this classical masterpiece was subject to a very quirky retrofit; 8 chimneys in the shape of obelisks together with eight chimney flues were tagged onto the building. Added as an afterthought it was soon discovered that their shape was completely wrong for the purpose of extraction. Soon they were remodelled and the resulting chimneys looked much more like their English counterparts.
This further adaptation didn't fully solve the structural inadequacies and so another quirky adaptation was designed. Flues were added to each window recess (disguised as window boxes) in order to assist the draw of air through the struggling chimneys. During its recent restoration, the original design of the chimneys was reinstated whilst the window box flue workaround was retained for posterity.
Window box disguising flue – window box detail
This is just one of the plethora of intriguing stories that surround the unique exterior and interior of Chiswick House. With the care and dedication of many people over the decades, this architectural gem continues to reach out to artists and innovators into the 21st century and beyond – smoky chimneys and all!