Woody, Table Tennis England and Two Princes - Bringing a Historic building back to life!
The successful launch of the Greenhouse Sport Centre was honoured by the attendance of two Princes in April, 2018. Getting into the spirit of the place, Prince Harry and Prince William enjoyed a game of table tennis after the official ribbon cutting ceremony.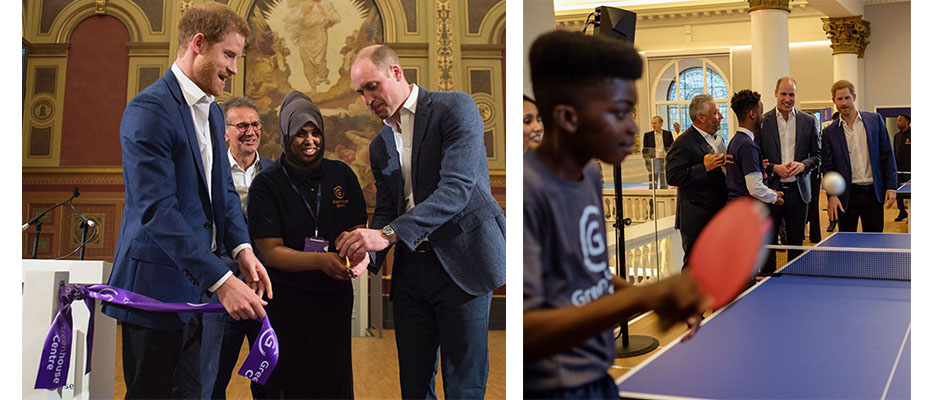 Enjoying a game of table tennis and official opening ceremony 
This new lease of life for this Grade II* Listed building is due to the vision of the charity Greenhouse Sports, which strives to provide high quality sports coaching and mentoring to young people from deprived areas of London. "
From day one, our vision for this building was to create a unique space where young people and members of the local community could access high quality sport provision and have the opportunity to work with our experienced coaches to develop life skills and reach their full potential.
" 
John Herriman, Chief Executive of Greenhouse Sports
Christchurch was bought at auction chiefly through the donations of one man. Michael Sherwood, former Co-Chief Executive at Goldman Sachs and supporter of the charity Greenhouse Sports has given over £14,000 000 to the charity over the past decade.  "
We're building a place where kids will be able to get on the Tube from anywhere in London and be there in 30 minutes, then be able to get a meal, do their homework, play table tennis, judo or  whatever, and be in a great, safe environment
." 
(Mr Sherwood, Known in the City as Woody)
Having succeeded in purchasing the building the next phase of the project comprised its transformation into a state of the art sports venue, with the caveat that it retains its original aesthetic.
Huge, curved head stained glass windows form the principle design feature of Christchurch. These soaring primary windows run the whole length of the nave. So tall (2.3 metres) that the original architect chose to incorporate a mezzanine floor in front of them.  From the outset it was clear that great care and attention was needed for the adaptation of these beautiful windows. As the original primary windows were protected by the building's Listed status, secondary glazing was the obvious solution. That being said, adding
safeguarding glazing
, whilst not detracting from the original design would prove a challenge.  Built to fulfil the spiritual needs of an ever-expanding urban population during the early half of the 19th century; a transformed Christchurch continues to serve Londoners in the 21st century and beyond.