No treatment too challenging for Selectaglaze's team of Installers
After centuries of pealing, the bells at St Andrews have been muted! Once renovated, the retuned bells will ring with more resonance and tunefulness than they have for many years. Over time they have become corroded and distorted; soon they will be refurbished back to their original shape and pitch. However, when re-hung, they will ring within a belfrey which has been fitted with acoustic secondary glazing to reduce noise egress. The challenge was to get over 495kg of secondary glazing installed in the belfry of St Andrews church! Situated over 20m above ground level, installation access consisted of a narrow gantry running around a central access hatch approximately 1m by 1m. Following a site assessment, the option of carrying 2.5m x 1.5m glazed units up to the belfry via the narrow spiral staircase was soon rejected. Undeterred, the company sort another solution. Good planning and scheduling resulted in Selectaglaze's team being able to utilise the temporary lifting gear which was in situ for removing and replacing the church's bells.
Access to the belfry via a narrow medieval spiral stone stairway
To achieve the desired acoustic benefit whilst meeting the specific demands of this challenging installation each window was treated with a combination of Series 80 three pane horizontal sliders coupled to Series 42 fixed lights. Weight and size restrictions dictated the design to enable manual handling and transfer via the temporary pulley system. The units were suspended in slings and hoisted up the tower hand over hand.
Hoisting component parts, hand over hand - Installers teamwork
The lifting equipment consisted of a centrally hung pulley and rope situated within a purpose built hole through the belfry floor. To keep safely within the tolerances of the existing system, as well as to fit through the central access hole, the secondary glazing frames came to site in deconstructed sections.    With individual components weighing in excess of 33kg and each of the four windows weighing over 120kg, our team of installers shared the herculean task of expertly transferring and installing all the elements of the treatment safely and efficiently.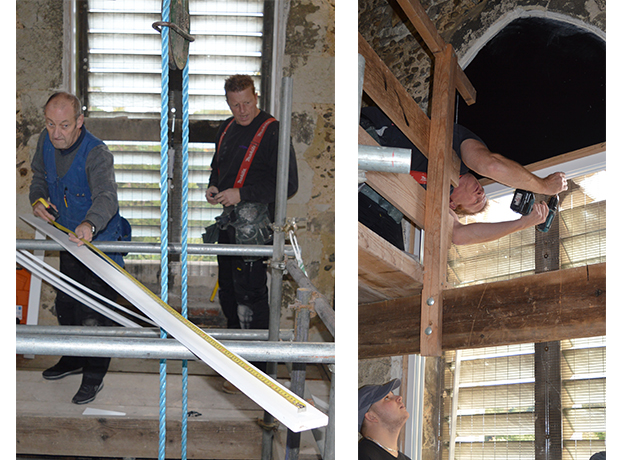 Ingenuity and flexibility were required
With limited floor space and wiggle room, the fitters needed to use ingenuity to assemble the sections into their respective frames. This challenging treatment required expertise and collaboration from the whole Selectaglaze team, from technical advisors through to installers. The end result is acoustically sound and it can only be hoped that the bats will appreciate the music!