SAVE Britain's Heritage and how specialist contractors bring neglected historic buildings back to life
The fundamental power of
SAVE Britain's Heritage
(SAVE) is its ability to harness public opinion. From their creation in 1975 SAVE has used this power to such great effect that hundreds of irreplaceable buildings have been saved from the bulldozer. The built environment is all around us and the backdrop to our daily lives, which elicits both complex and unique emotions. Buildings have their own individual context and interplay with the environment around them, it is often so much part of a street scene that its removal can look as bad as removing a front tooth! SAVE Britain's Heritage recognises that it is often the buildings which are taken for granted and left to decay that are in danger of being demolished.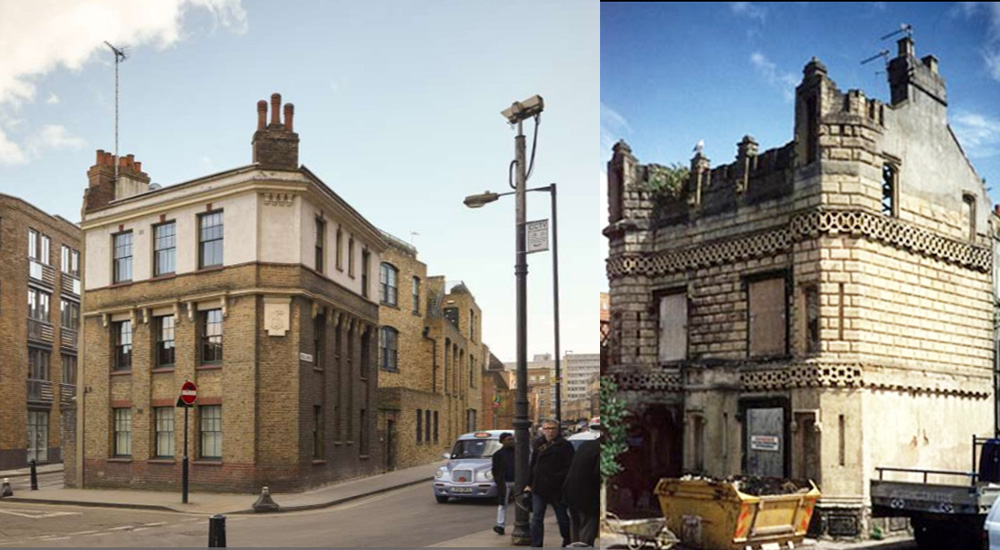 66-68 Bell Lane, Spitalfields and Castle House, Bridgwater, Somerset
Over the past four decades SAVE has discovered many neglected buildings that on closer inspection warranted Listed status. More commonly SAVE has found that many of these buildings fall into the category of being unique, aesthetically pleasing and characterful. Their architectural style, decorative features, materials used and sometimes just the whole aesthetic of the building are considered when being added to SAVE's Buildings at Risk register.  The organisation is responsible for creating the first online register of threatened historic buildings.  Inclusion on this list has proved enough in itself to save numerous buildings. SAVE actively seeks out potentially overlooked buildings under threat of demolition and champion the cause for preserving them. In the case of the Futurama Cinema at Liverpool Lime Street, SAVE opposed the art deco cinemas demolition by presenting alternative designs for the site which incorporated the cinema's famous façade.  SAVE also supports individuals and groups in their quest to save local buildings. This support includes the organisation lobbying the relevant local councils and as well as communicating with local press and planners. It also supports local campaigns by providing practical advice on how to communicate to both public and decision makers. At Selectaglaze we recognise the importance of heritage buildings within our built environment. They add colour and richness to communities and would be sorely missed if not preserved.  We also recognise that conserving older buildings for future generations is inherently environmentally sustainable.  New developments in materials, products, techniques and services allow heritage properties to be restored sympathetically and in such a way that their thermal and acoustic properties can be raised to twenty first century building standards.   Our unique range of secondary glazing together with our complete service from initial enquiry to installation is one such product. Over the past five decades we have developed secondary glazing to meet nearly every possible installation challenge we have encountered. Our experience within the heritage sector means that we can achieve maximum thermal and acoustic benefits without compromising the look, feel and function of the original window. Our product is made bespoke for every individual window opening.  Our manufacturing process together with the skill of our technical advisors, surveyors, timber shop and fitters results in optimal installations. Often the reveals require additional consideration to facilitate installation. We pride ourselves in being able to find optimal solutions for even the most eclectic and challenging heritage project. Our secondary glazing enhances the thermal, acoustic and security properties of the original windows.
Thermally
and
acoustically efficient
secure windows
 can breathe new life into heritage properties raising the comfort levels to modern standards. The adaptation can transform a heritage building making it thermally sound and energy efficient. We take great pride in the raised comfort levels and energy efficiency ratings resulting from our installations. We fully support the work of SAVE and hope that many more of our neglected heritage buildings are spared the bulldozer and given the opportunity to have new life breathed into them, enriching our historic tapestry of architecture.