We have developed and manufactured our first Series 25 vertical sliding 'curved on plan'
Original curved on plan single glazed sash windows are an important architectural feature that most owners would like to keep, even though they can present issues with noise ingress, are draughty and offer little security. Selectaglaze has been successfully producing hinged casement curved on plan units for a number of years.  However it was felt that the vertical sliding curved on plan unit would complement our product range. Producing curved on plan units is a challenge, as great technical skill is required to control the forming tolerance in both the frame and the glass.  Additional challenges are posed when manufacturing a vertical sliding unit due to three operational interfaces which need to perform effectively and efficiently together.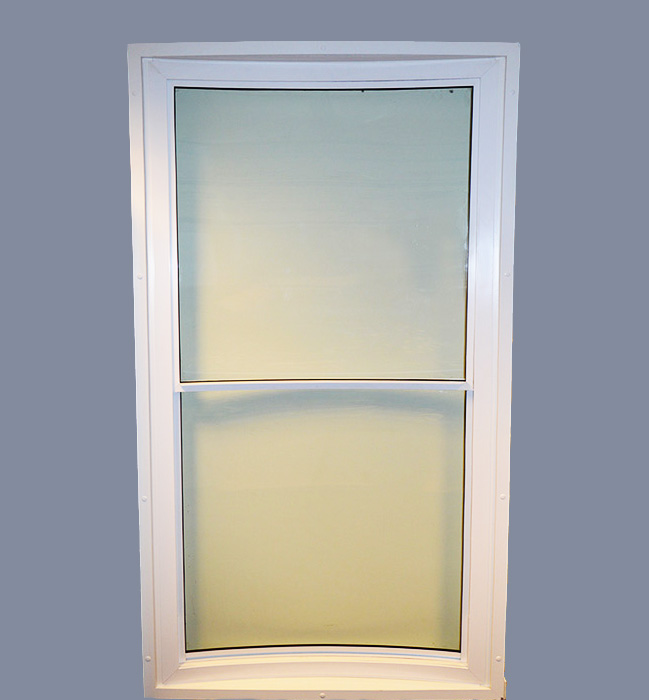 Series 25 vertical sliding 'curved on plan'
To achieve the required accuracy, Selectaglaze adopted the 'low melt alloy' method to form the aluminium extrusions.  In this process all the sections are encapsulated and supported in a low melt alloy before they are shaped.  Once formed, they are re-heated to re-melt the alloy leaving behind a perfect curve.  These extrusions can be pre-painted prior to the process if required. Cutting mitres on the curved face of an irregular section is no mean feat but it is something the Selectaglaze team has experience at, as they have been producing curved on plan units in casement systems for many years. The subsequent transfer of skills to the new Series 25 curved on plan has resulted in fantastic results.  The sashes slide smoothly and it feels just like a  standard unit. The first Series 25 vertical sliding unit has been produced with a 1800mm radius, further development and trials are planned before the team are happy to fully launch this as a new product, but they are quietly confident. Selectaglaze is proud to announce the success of this product.  This technical breakthrough will facilitate the treatment of curved on plan sash windows, allowing these beautiful original feature windows to be sympathetically treated with both the curvature and sightlines maintained.