The 'Whole Building Approach'
The UK has long been known as the dirty man of Europe. With a typical domestic property producing a disproportionately large carbon footprint (4.70 metric tons of CO₂ per year), in 2006 there was cross party agreement that action needed to be taken to address this problem. The Climate Change Act became law in 2008 which was a major step towards meeting the legally binding carbon emission targets agreed at Kyoto. Carbon reducing government policy has been generated over past decade.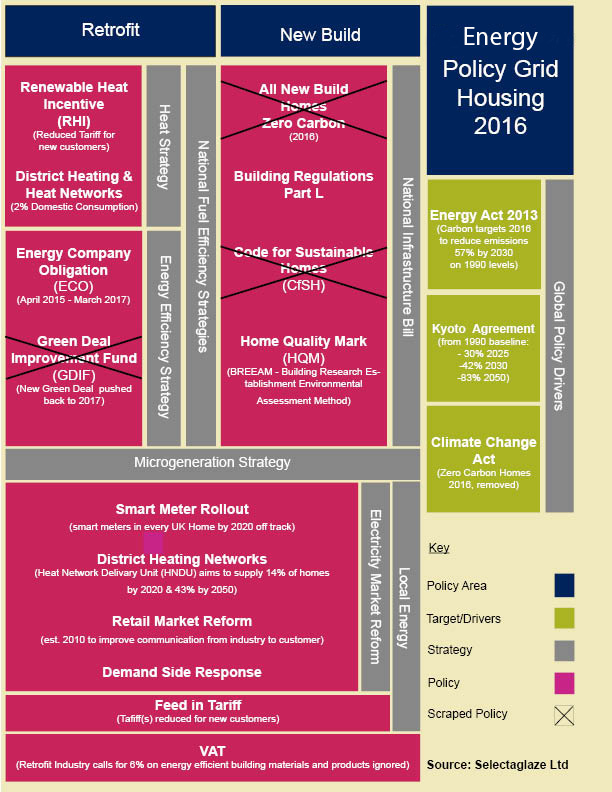 Energy Efficiency policy
Within this legislation was an undertaking to reduce carbon emissions from the building sector in line with set carbon budgets together with a framework to set the UK on a carbon emissions reduction path. To meet these targets it has been recognised by the industry that it needs to take a 'whole building' approach to both retrofits and new builds.    However during the later months of the coalition and early months of the 2015 Conservative government, large sections of these policies were removed. The government's position on carbon reduction was made plain in chancellor George Osbourne's productivity plan,
Fixing the foundations: creating a more prosperous nation
: published on 10 July 2015. The flagship policy of 'Zero Carbon Homes (2016)' was scraped. This announcement created an unprecedented backlash from leading figures in the construction industry, culminating in the publication of an '
Open letter to George Osbourne on zero carbon policy
'. This letter was an endorsement by senior leaders from 246 organisations in support of the scraped policy. Following the scrapping of the Green Deal in July 2015 assurances were given that a replacement strategy and policy would shortly follow. An enquiry into the success of 'Energy efficiency' policy and strategy concluded that: '
Policy changes
, under both the previous and current Government, have led to a degree of uncertainty within the energy efficiency market. This has led to a complex and confusing landscape for consumers to navigate. This lack of stability has also been detrimental to the supply chain, which has suffered job losses'.   According to Lord Bourne of Aberystwyth
Lord Bourne commentary on legislation
(Department of Energy and Climate Change) "
I would have thought that within the calendar year we'll come out with a set of principles but in terms of legislation and what's needed, it will fall behind ECO (Energy Company Obligation)
". When challenged about the length of time the energy efficiency industry has had to wait Lord Bourne explained that: "
There is urgency here but we need to get it right. I think industry will quite rightly want to make sure that we come up with something that is coherent. I will certainly make sure that we have something coherent that we can publish this year (2016)
."        At the 2016 London Build when asked her opinion on progress towards a new Green Deal, Sara Kassam stated that there was as yet no joined up policy or strategy forthcoming from the government. She recommended that during this hiatus, construction professional's research best practice and case studies to remain informed. This personal knowledge should inform subsequent decisions in the drive towards sustainability and energy efficiency within the build environment.