Gothic arches mullions and transoms
The windows of this Grade II Listed chapel, posed a whole host of challenges to engineers/architects and specialist providers in converting this space.  None of the existing windows provided sufficient
insulation
or
security
properties required for the proposed performance and arts centre.  Selectaglaze was approached as the specialist provider of choice.     Of particular concern to the planning authorities was the aesthetic impact on the windows with the addition of secondary glazing, so six distinct designs were created. Technical drawings were produced incorporating the secondary glazing specification, as well as an artist's impression of the gothic arch window with opening casements for consideration by the planning authority.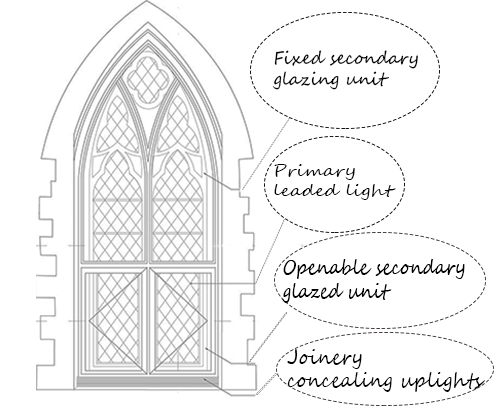 The window shapes ranged from the gothic rose window to
gothic arches
and from simple to complex lancet windows.  The beautiful window tracery, mullions and transoms posed further challenges.  The secondary units needed to incorporate these fluid lines within their design.  The challenges didn't stop there; in addition to aesthetics, the practical challenges of curved reveals throughout needed to be addressed and sympathetic solutions created.     The majority of the beautiful stained glass windows depict saints and important biblical characters.  The remainder house simple colourful geometric patterns or clear glass.    The fixing challenges due to the idiosyncrasies of the various window reveals is an issue Selectaglaze often has to face due to the complexity of many of the projects they under take.  The solution for this project required the combined expertise of technical advisors, carpenters and fitters.  
Cill details
In addition to the nineteenth century neo gothic features, Selectaglaze also had to incorporate space for ventilation and lighting in its designs.   The project progressed to the sample window phase, with a Gothic arch secondary glazing unit with casement opening being manufactured and fitted.  This unit proved to the planning authorities the quality of the secondary glazing, design, manufacture and application.       This collaborative approach resulted in designs for the chapel that do not detract from the original beauty of the building but add to its interior comfort levels and overall security.