When I'm cleaning windows – The urban myths surrounding secondary glazing
Unsightly and ineffective, secondary glazing is still trying to shake off past perceptions! Add to this the continued presence of old treatments lurking in cold uncomfortable buildings; together with recent, poor quality treatments which are still produced by some companies, and it is not surprising that the urban myth is perpetuated.   Initially, secondary glazing consisted of a single pane of glass, edged with plastic, pinned to the frame of a primary window. Soon it was discovered that to gain optimal benefit from the second pane; the two panes needed to be decoupled. This led to the development of a secondary unit that could be installed independently from the primary frame. This far more sophisticated solution allowed for far improved levels of thermal and acoustic performance, as well as facilitating cleaning when the systems are in-situ.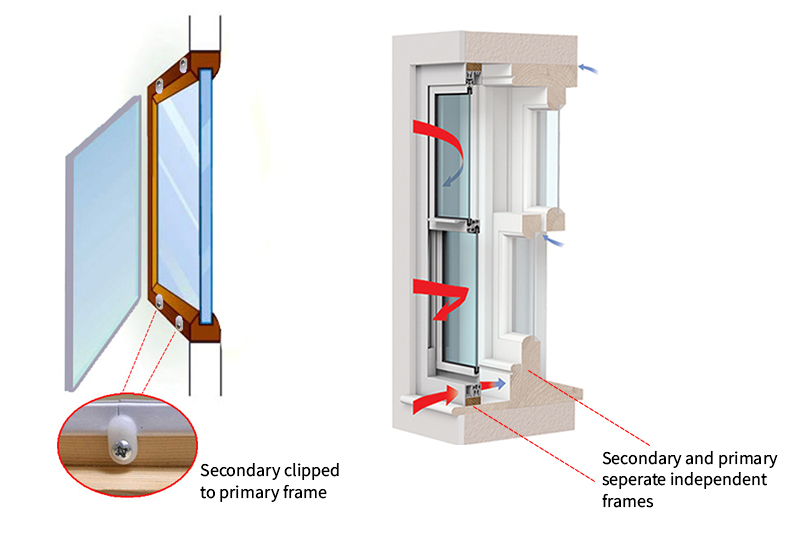 Initial fixing method for secondary glazing compared to Modern fixing method – which allows for in-situ cleaning
On a recent tour of
Chiswick House
, organised by
SAVE Britain's Heritage
, one of the members bemoaned the fact that secondary glazing is impossible to clean. He explained that in his Victorian property, he had vertical sliding secondary glazing recently installed and that removing the panes for cleaning had proved challenging. He was unaware that as a rule, quality secondary glazing systems should facilitate cleaning. It is clear that some providers still design and install treatments that cannot be cleaned in-situ even when the treatment warrants this facility or even requested. In an ideal situation,
vertical sliding units
should be designed in such a way that either;
Both sashes slide, and contra-slide (i.e. the top sash can move to the bottom and vice versa) and are installed to provide a cavity to allow the user to reach in
Both sashes tilt in
Both sashes are removable for access
Contra-sliding secondary units
For some treatments, a
hinged casement
or tilt-in sliding unit may be the best solution. Again, aesthetics, function and operation elements need to be considered when specifying.
Tilt-in and hinged casement secondary units
Good, modern secondary glazing units should provide maximum benefit, minimum visual impact; whilst at the same time preserving the function and ease of maintenance of the existing window. All these elements need to work together to produce a successful, manageable treatment. When customers know to expect these qualities, hopefully, poor quality providers will no longer be able to perpetuate the urban myths surrounding secondary glazing.