Winner of the 2015 Best Global BREEAM Residential Award – 119 Ebury Street
Situated in leafy Belgravia, 119 Ebury Street is a beautiful Grade II Listed property which has been adapted into three luxury apartments. The refurbishment in 2015 won the prestigious Best Global BREEAM Residential Award. The refurbishment also has the accolade of being the first Listed building in the UK to be awarded a BREEAM 'Outstanding' rating. The three apartments form part of Grosvenor's London estate, one of the largest landowners in the country. Its portfolio includes much of Belgravia and the surrounding areas. Grosvenor sought to create highly sustainable apartments which feature whole house ventilation and heat recovery; this was accomplished using the most recent engineering systems and low carbon technologies. To achieve the desired renovation, Grosvenor worked closely with Westminster City Council, David Morley Architects and main contractor Grangewood, to ensure the historical features of the building were retained while creating highly energy efficient apartments.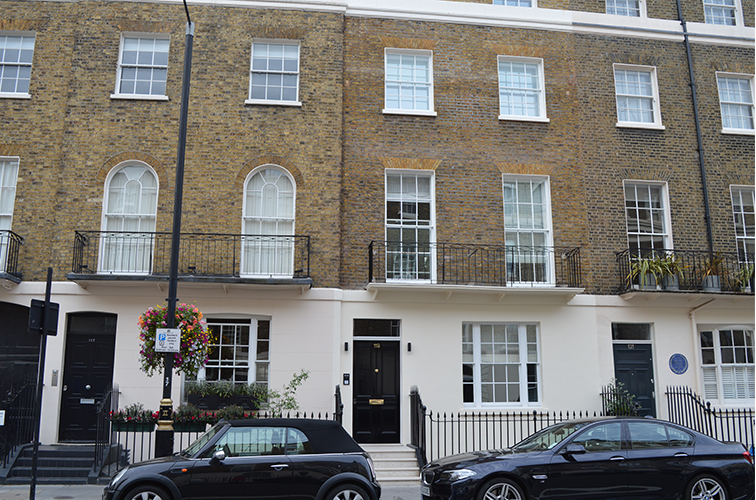 119 Ebury Street - Winner BREEAM residential award 2015
The original single glazed primary sash windows were identified as having poor thermal and acoustic properties. As the primary windows were protected under the property's Listing, Grosvenor estates approach Selectaglaze for a secondary glazing solution. A total of 18
Series 25 vertical sash windows
glazed with 6.2 mm Spacia glass were manufactured and installed. Spacia glass is comprised of two panes of glass separated by a microspacer grid of tiny pillars. The edges of the glass are then hermetically sealed and the air evacuated, sealed and capped. This construction results in a new method of glazing which has excellent thermal and acoustic performance. This innovative design also offers a profile that is only slightly thicker than a single pane of glass. Lightweight, slim glazing is ideal for the Series 25 which has been designed to produce low visual impact on a traditional building's interior. This refurbishment forms part of a project undertaken by Grosvenor to achieve a 50% reduction in carbon emissions across its portfolio by 2030. 119 Ebury Street shows that with sensitive design,
innovative low carbon solutions can be combined with historic fabric
enabling our city's heritage of older buildings to remain protected whilst contributing to a modern environmentally conscious built environment that is well suited to contemporary lifestyles.