Sound is transmitted through a window by direct vibration of the glass. The larger air space created by secondary glazing decouples the movement of the inner and outer glass, which means they act as separate barriers, thereby reducing resonance and performing better than standard sealed unit double glazing. Airborne sound is also a major problem with ill-fitting windows – a 1% gap in the total window area can reduce sound insulation by as much as 10dB. A purpose-made secondary window seals the whole of the external window with frames bedded on an acrylic sealant and opening panels fitted with high performance seals.
Key Benefits
Noise is unwanted sound and a form of pollution that has negative impacts on health and wellbeing. Measures to control high levels will
Reduce sleep disturbance 
lower stress levels
Improve concentration and productivity 
Help in meeting noise planning constraints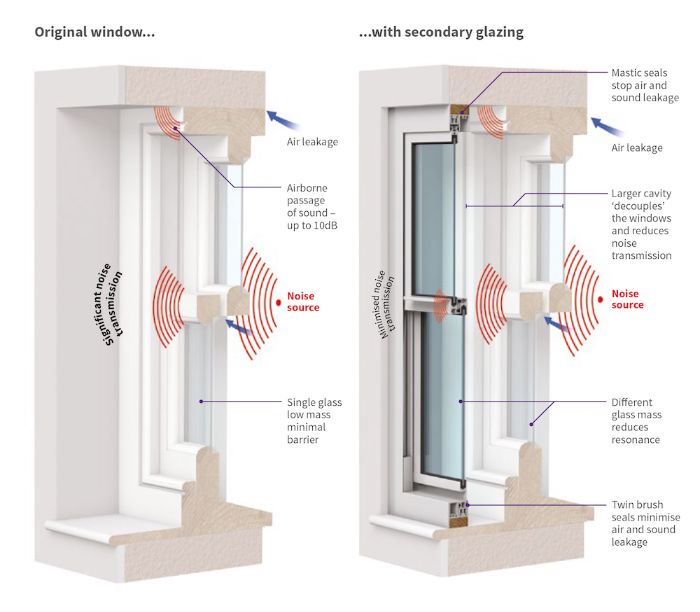 Regulations and standards
BS8233:2014.  Guidance on controlling noise affecting buildings.
Applies to designs for new buildings and those being refurbished for a change of use.
Building Bulletin 93: 2015.  Acoustic design of schools- performance standards
Ministry of Housing, Communities & Local Government Noise Guidance: 2014 (updated 2019)  https://www.gov.uk/guidance/noise--2
Guidance 
Sound: 
Sound is measured as a pressure and expressed in dB (decibels). 0dB marks the threshold of hearing whilst 120dB is the point at which pain is experienced. Our ear responds to loudness which is dependent on both the Sound Pressure Level and the frequency of the sound. The ear is more responsive to higher frequencies, which therefore appear louder. The scale is logarithmic and an increase of 10dB approximates to a doubling of loudness whereas a change of 3dB is just about noticeable.


Acceptable sound levels: 
The World Health Organisation (WHO) sets out guidelines for acceptable sound levels in a range of environments in 'Guidelines for Community Noise' some of which are set out in the table below along with secondary glazing performance comparisons.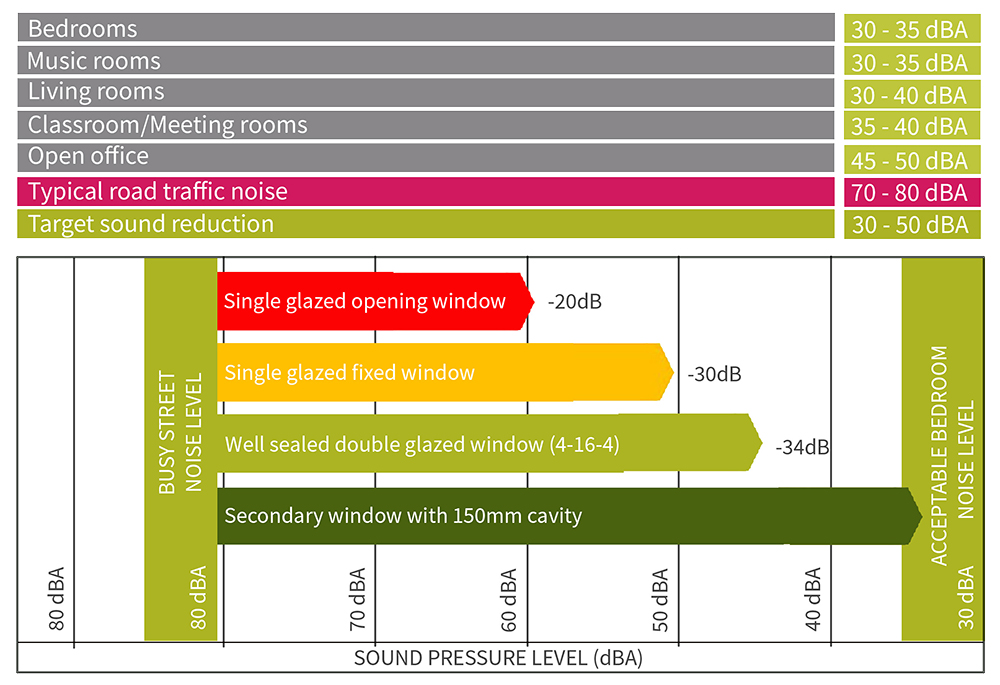 Effect of cavity: 
The cavity is the space between the existing primary window and the secondary and performance improves as it increases.




Effect of glass: 
Ideally the secondary glazing should have a different thickness of glass than the primary window to avoid sympathetic resonance which will increase noise transmission. Thicker glass with greater mass provides higher levels of insulation and acoustic laminate glass will improve performance at higher frequencies typically from aircraft noise.
Acoustic performance of Selectaglaze secondary glazing
The product range has been tested against single glazed primary windows in accordance with Standard BS EN ISO 140-3:1995 'Laboratory measurement of airborne sound insulation of building elements'. Testing was carried out by Taylor Woodrow Technology on openings 1250mm(w) x 1500mm(h) with results reviewed and interpolated by acousticians Hann Tucker Associates.
All figures are based on a primary window with 6mm glass and all figures are shown in mm. T = toughened glass, A = acoustic glass
Download full acoustic data sheet
Rw dB values for a 50mm cavity between the secondary and primary glazing

Rw dB values for a 100mm cavity between the secondary and primary glazing
Rw dB values for a 150mm cavity between the secondary and primary glazing
Rw dB values for a 200mm cavity between the secondary and primary glazing
Other benefits of seconday glazing