With the UK's commitment to reach net zero by 2050, and approximately 5.4million traditional buildings in England alone, there is a lot of work needed to upgrade both the building fabric and its fittings. Replacing existing windows is not always desirable nor permissible, so secondary glazing, when carefully specified is a very sustainable product choice.
The embodied carbon in the existing windows is retained and there is no carbon cost associated with removing and sorting materials for recycling or landfill. This is subject to frames being in good order or repairable but many pre-1919 buildings have sound windows.
Listed buildings cannot replace single glazed windows but, subject to listed building consents, Approved Document L permits secondary glazing with Low-e glass and Heritage bodies accept it as a reversible adaptation.
Around 6% of traditional homes are single glazed, many with windows having architectural features that need to be retained. Secondary glazing provides an efficient upgrade.
An estimated 75% of homes have double glazed windows. Most have been installed since the 1980s and early designs for sealed units are much less thermally efficient than those needed to meet sustainability targets. Secondary glazing can provide a simple upgrade to triple glazing.
The life expectancy of secondary glazing can be very long as single glass does not degrade nor does treated aluminium corrode.
U-Values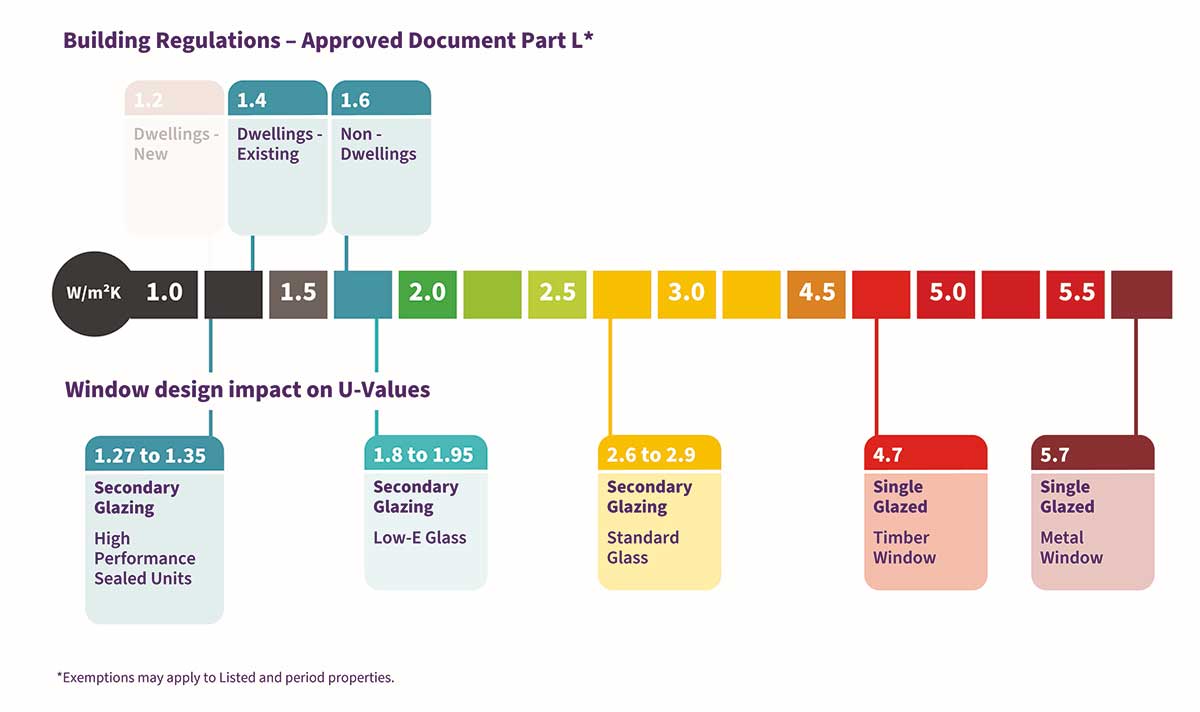 Building sustainability with secondary glazing
By retrofitting an independent secondary glazed window on the room side of the primary glazing, thermal performance is raised, comfort levels are improved, and buildings become more sustainable. If standard glass is selected, heat loss can be reduced by half and by using hardcoat low-E glass the reduction becomes 65%. By augmenting the specification to high performance sealed units or vacuum units the reduction could reach 75%. For many Listed and heritage buildings this is the only solution. However, secondary glazing should also be considered as a sustainable solution for non-listed properties as embodied carbon is retained in the existing primary window and less materials are used in the manufacture of secondary units compared to new primary windows.
Secondary glazing make-up
There are 3 main material groups in the Selectaglaze product:
Secondary glazing at end-of-life
Protected from the main elements and not limited by sealed units, the life expectancy of secondary glazing exceeds that of a modern replacement window. However, when end of life is reached, approximately 99% of the product can be recycled:
Aluminium is fully recyclable and remelted for reuse.
Flat glass can be returned to glass processors for recycling and most can be used as cullet in the glass making process. Laminated glass can be used for glass containers or mineral wool.
The remaining 1% is formed of gaskets, pile seals and fixing screws, some of which may also be recycled when segregated.
Designing sustainable buildings
The full Selectaglaze secondary glazing product range is supported with associated NBS Specifications, CAD files and BIM objects for designers wanting to embed the complete data for every aspect of their project helping to assess the project's carbon consumption and ongoing maintenance.