As strong as the weakest link – Security secondary glazing
Achieving a successful
security secondary glazing
treatment involves more than installing well specified, manufacture and security certified secondary glazing. The level of security must first be specified. This is determined by a security consultant. With new builds these requirements determine the specification at planning stage. Whilst traditionally built buildings, never designed for such a purpose, present many challenges to security professionals; most particularly in how to conserve history whilst at the same stroke, achieve modern levels of security. For both new and heritage builds, 21
st
century security levels are required to meet specific insurance certifications; amongst these 'The Government Indemnity Scheme'. Due to their unique qualities many heritage properties are retrofitted to provide security, thermal and acoustic levels far beyond their original capabilities. Drenched in the history of centuries, heritage buildings continue to be attractive venues for displaying valuable collections. Often such buildings carry with them Listed status and are situated in conservation areas. Obtaining performance requirements can place strain on the fragile fabric of these historic structures. To meet the needs of preservation and achieve the necessary security requirements, specialist engineers, designers, security specialists as well as the designated conservation officer need to work as a team.
Government Indemnity Scheme - Arts Council England
Security retrofits invariably require attention to original windows.  Their size, style and function can be extremely varied; while security requirements of individual windows can vary depending on their location. A good secondary glazing company will have the experience and knowledge necessary to address all challenges posed by heritage properties whilst at the same time minimizing any damage to the original building. The complexities of balancing the demands of a security retrofit against the needs of the building rise exponentially with increases in scale. This is particularly true in the case of secondary glazing; to achieve high levels of security, the thickness of both the glass and the frame has to be increased. This can result in individual units weighing in excess of 150 kilos. As well as the reveal, the wall in which it sits needs to be structurally sound. Fixing security secondary glazing into a weak structure could (when tested for real) lead to a catastrophic failure of the treatment.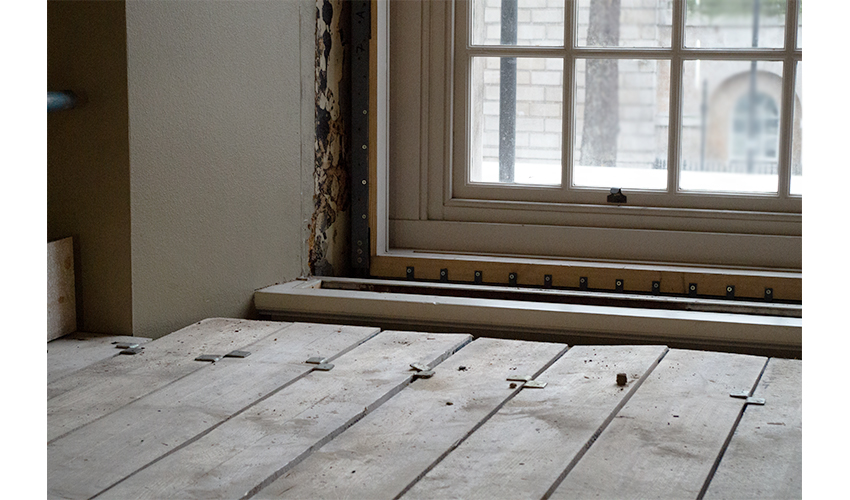 Steel reinforcements in wall
To arrive at a successful security retrofit compromises often need to be made on the way. For high level security treatments it is often necessary to perform an invasive survey to ascertain the physical strength of both the reveal and wall. Our team are very experienced in assessing heritage buildings and will always ensure that both the secondary glazing and building fabric are at the level required to meet the security specification. In the world of heritage retrofit security treatments, the old adage 'only as strong as the weakest link' hits the nail on the head.
Series 90 Security secondary glazing
Pulling all these elements together; whilst seamlessly fitting into the refurbishment project as a whole requires a combination of both technical expertise, design prowess, but above all being a company prepared to work collaboratively with others to achieve a common goal.