A sanctuary from the world – Southside House - A place of stories – BIID tour
Walking through the gates gives you the feeling you are stepping into an enchanted world. Skirting round the house and entering the large private gardens only serves to intensify this feeling. This dreamlike garden with the smells of foliage and sounds of birds and rippling water weaves a web of mystery and enchantment on even the most jaded Londoner. On a recent
BIID event
I had the opportunity to visit Southside House, Wimbledon. Built in The William and Mary style, Southside House is hidden away from view behind high walls and tall trees.
Enchanting gardens lure visitors into the mysteries of Southside House
Eclectic and eccentric, the interior of Southside certainly doesn't disappoint. Built originally as a farmhouse and redesigned by Malcolm Pennington's ancestor in the early 17th century, the building has been adapted over time. Having sustained bomb damage during the Second World War it had to undergo a thorough renovation.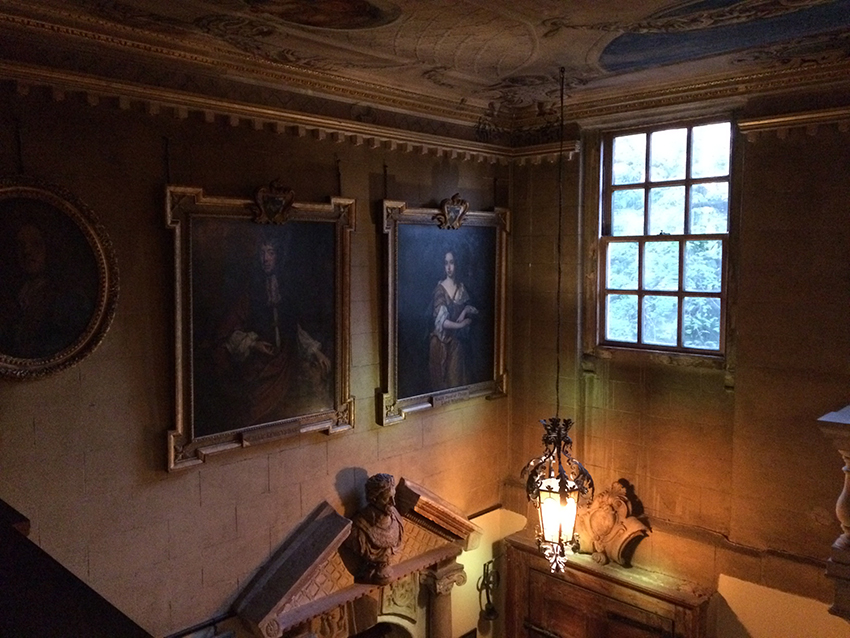 Faux stone walls and decorative ceiling frescos
The stories and lives of the family are steeped into the very fabric of the building, quite literally, in the case of the frescoes created by Malcolm and his brother Peter. However this history of the Pennington lineage is, by English standards, embarrassingly short. The Pennington family accumulated its wealth through cotton trading and shipping in the 17th century. Devoted mother Hilda Pennington was all too aware of her fragile ancestry. She was soon to be abandoned by her husband who left her in the sole charge of their three children. Feeling socially insecure and isolated, she escaped into a fantasy world, taking her children with her. Hilda wove fact with fiction, exaggerating and sometimes appropriating stories until the two became one within the confines of their house and gardens.
Malcolm's writing desk – possibly also used by Axel
As Hilda spun her stories, her husband Axel was busy writing his best seller. Estranged early in their marriage, Axel lived a glamorous and flamboyant life in Corfu amongst royalty and artists. However, this touch of glamour was passed onto one of his sons. During WWII Malcolm became a secret agent - the perilous exploits of which could make the basis for a John le Carré novel.
Axel and his son Malcolm Munthe
After the war, the physical and psychological injuries he sustained proved difficult for Major Malcolm to carry into civilian life. Possibly in response to his experiences he too wrapped himself in the atmosphere and enchantment of the past. However, the storyteller in him found its outlet in opening the house to the public and telling his stories to the next generation.
Original shutters and locks protecting the stories of Southside
The gardens and house seem frozen in time and give the sensation of walking through a dream. Every element of Southside, the evocative smells, sounds and meandering pathways of the garden pull you into its fantasy. When you enter the building the original box sash windows flood the interior with light and allow the gardens to form a backdrop to the scene. Still adorned with their original shutters and fastening mechanisms they continue to protect the stories of the past for the future.
By Mrs Catherine Joyce