Saving and upgrading traditional windows with secondary glazing
Category:
Secondary Glazing in Practice
Tags:
thermal secondary glazing, acoustic secondary glazing, refurbishment and conservation, crittal windows
Traditional windows come in many shapes, sizes and styles. Original windows in some traditional buildings are irreplaceable structural and design elements effecting their internal and external environment. Worryingly, original windows in these older buildings are a very vulnerable element of the built environment. They frequently fall victim to fashion, misinformation and economics. In a quest to install thermally and acoustically efficient windows with the promise of low upkeep at minimum cost, property owners opted for uPVC replacement windows in their droves.  Crittall windows with their characteristic thin mullions, transoms and often curves, have been negatively affected by this trend and changed for new primary windows. These unsympathetic replacements damage the overall aesthetic of both the individual house as well as the street in which they belong. UPVC is weaker than the original metal windows and as a result the mullions and transoms required to produce windows with the same performance are significantly wider, which reduces the amount of natural light entering the building. Generally no attempt is made to reproduce original curves and clumsy angled windows are installed in their place. The whole effect is discordant and detracts from the original design.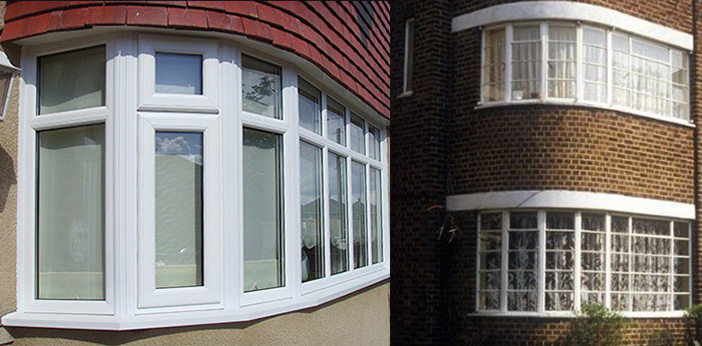 uPVC replacement windows                                       Original crittal windows
Unfortunately as the vast majority of these buildings have no Listed status, these period features have proven extremely vulnerable to the point where they are becoming extinct. In an attempt to mitigate against this inexorable removal of period features, English Heritage, later to become Historic England, launched a series of guidance notes called 'Framing Opinions'. This series attempted to educate property owners in order for them to make informed decisions on the various solutions available when upgrading period features of a property. The series '
Framing Opinions
' and latterly '
Energy Efficiency in Historic Buildings
' gives guidance on the options available to owners of older properties with original windows. These articles are an attempt to offset market forces strongly weighted in favour of the removal and replacement option. Framing options put forward the case for retaining original windows not only for their historical value but for their inherent superiority over modern replacements. In general, traditional windows are made from higher quality materials by highly skilled craftsmen.  The resulting windows are generally so well constructed, that they significantly out last any modern replacement. 'Framing solutions' asserts that original windows professionally repaired and maintained can be left in situ for many more generations to come. Their
thermal
,
acoustic
and
security
properties can be significantly improved with the application of good quality secondary glazing. The articles go on to show that this option is in fact a good solution and is also cost effective. 'Framing Opinions' provided robust research into the benefits of renovating traditional single glazed windows and installing secondary glazing. Research commissioned by English Heritage found that simple upgrades could result in thermal performance improvements of up to 67% with U-values of 1.4.  Original windows retain the story of the time in which they were constructed.  A window gives us an insight into the materials, construction methods and craftsmanship available at the time of its construction. Windows can give a tantalising glimpse into the lives played out behind them and in some cases, in front of them. Windows commissioned by Catholic families during the reformation still bear witness to the dangers they faced. The carpenters were required to construct window frames complete with holes. This specially adapted window would be placed immediately above the main door of the property nestled unobtrusively in the eaves. Behind this hole a small space was constructed in which a servant would lie in wait to eavesdrop on their visitors. Intelligence gained in this way could alert the family to the true intent of their visitor, allowing ample time to hide a visiting priest in one of the building's many and highly ingenious priest holes.
Speke Hall – Liverpool – listening (eaves-dropping) hole
The evolution of window design can bear witness to historical events. Fashionable box sash windows popular in the eighteenth century evolved from their earlier hinged casement predecessors. High quality timber, craftsmanship and engineering led to the counterbalance sash window. This design met the architectural aesthetic of the day which gradually evolved into the classic windows so synonymous with London town houses.
The first sash windows, by necessity had rather thick transoms and mullions. Gradual improvements in design and construction allowed for ever thinner glazing bars affording more light into the interior. The secret of the classic sash window is the box in which it glides together with counterweight balances, which offset the weight of each sash. During the early 17
th
century the box construction was generally placed in line with the front of the façade. However during the 18
th
century sash windows were required to be set further and further back from the façade. This placement was determined by London's own set of building regulations (which were more stringent than other cities following the Great Fire of London in 1666). By the late 18
th
century the whole of the box sash frame was concealed within the wall of the building. This particular look became popular throughout the UK and cities such as Bath and Liverpool to this day are full of buildings with windows constructed in this ostensibly London style. A window is a unique time capsule of materials, craftsmanship, status, politics as well as taste. From the 15
th
century through to the present day fenestration remains the eyes of the building. Windows are as important to the interior as they are to the exterior of a building's design. The trend in replacement windows has seen a lot of unnecessary destruction of our architectural history. As a result of the previous five decades of changes, buildings with windows that have survived this onslaught now possess an added premium. Advances in secondary glazing design and manufacture, coupled with clear information on the choices available to building owners will hopefully turn the tide, making repair and secondary glazing the option of choice.