Flush box sash fixing, acoustic secondary glazing - what to do when you have no reveal?
This treatment required the addition of secondary glazing to preserve the look and function of the original Victorian windows, whilst achieving the benefit of acoustic secondary glazing. When the technical advisor visited the flats he found that the original windows had shallow reveals. To achieve maximum
acoustic benefits
from secondary glazing the gap between the primary and secondary panes needs to be 100mm or greater.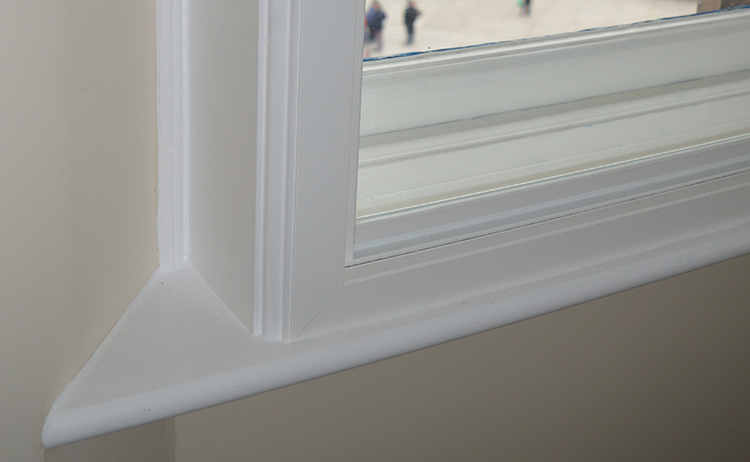 Ovolo moulding flush box sash fixed secondary glazing (fig 1)
A treatment was designed which included the addition of complimentary subframes to each opening, which enlarged the reveals creating the all-important cavity to deaden the noise ingress. The architraves of the original window frames were matched with ovolo mouldings on the timber grounds, which are used to secure the secondary glazing to the subframe. This attention to detail helps to blend the additional frame into the original. With the subframes in place the secondary glazing was installed lipping the new ovolo face fix timber. Generally, when there is a sufficient reveal to create the desired benefit, the secondary glazing is fixed onto the original reveal with an 'invisible' 33mm x 15mm twice primed timber ground. (fig 2) With a flush box sash installation, the secondary unit is fixed onto a timber ground which is a minimum of 70mm x 32mm and forms a 'visible' section of the frame – allowing mouldings to be added to blend into the original surrounds.
  For this treatment, the visible section of the timber frame was carefully prepared by the in-house timber workshop to ensure that the ovolo mouldings matched each original frame. Each bespoke subframe ensured an optimal distance was established between the primary and secondary glazing in order to achieve the desired acoustic benefits. Not only was there the need to reduce noise ingress, but for the secondary glazing to also contribute towards a
BREEAM
rating.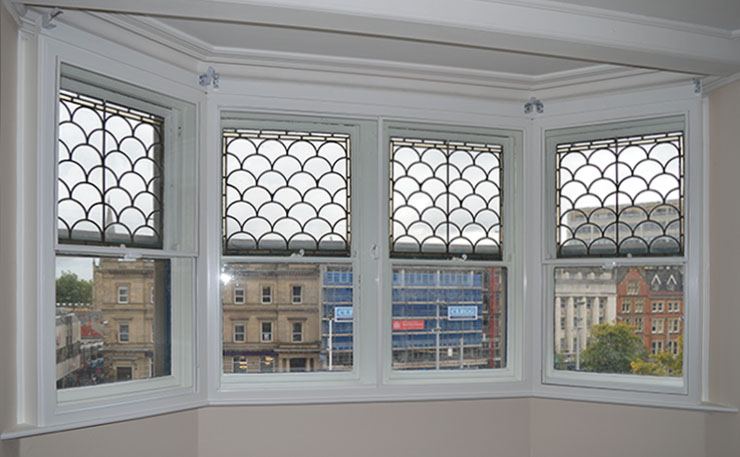 The design aesthetic of the original windows has been retained whilst at the same time achieving the desired acoustic benefits. By preserving the existing sightlines and matching the original timber mouldings, the resulting treatment looks totally in keeping. In a successful face fixed installation the only element that stands out is the absence of noise.