Historic England's 'Dragon on the Hill' – creating a legacy and wider regeneration
Sitting atop a hill in Ditherington, an area North of Shrewsbury Town Centre, is what is considered to be one of the most important buildings in the world; Shrewsbury Flaxmill Maltings. The Flaxmill is the world's first iron framed building and the grandparent of modern day skyscrapers, such as New York's Empire State Building and London's Gherkin. At times referred to as 'The Dragon on the Hill' due to its distinctive serrated roofline and the steam power which first drove the spinning machinery, the Flaxmill was a place of innovation and is a beacon of Shropshire's industrial past. Thanks to a National Lottery Heritage Fund grant the site is currently the subject of a painstaking restoration led by Historic England and, until recently, has been shrouded in scaffolding after being left derelict for several years. With two centuries of working use, including one as a Maltings, and several developments to the site made during this time, Shrewsbury Flaxmill Maltings is truly iconic – a place of many firsts and a remarkable survivor of the industrial age.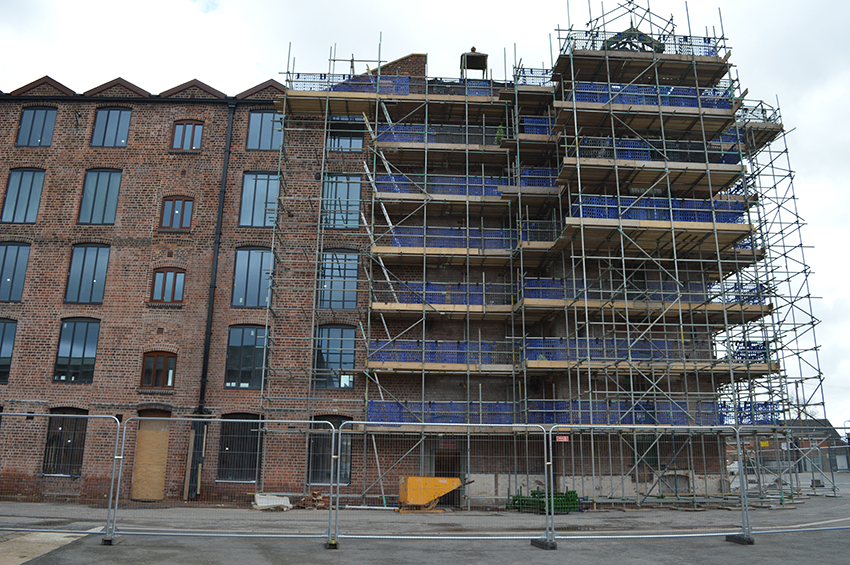 In 1796, John Marshall and the Benyon brothers invested in the seven-acre site with the plan to build a flax mill unlike any seen the world over. Benjamin Benyon saw an opportunity to build a factory to twist thread in Shrewsbury, which could be sold on to carpet weavers in Kidderminster and other industries in neighbouring counties. Until then, most yarn making industry was in the North of England. It took ten years to build the Flax Mill in Ditherington; it cost the princely sum of £17,000 and involved many visionaries of the time. Marshall and the Benyon Brothers experienced a devastating fire at one of their mills in Leeds on 13 February 1796, incurring great financial costs as well as loss of human life;  a common occurrence of the time. With mills constructed from wood, lit by candles and lots of fibres in the air, fire was a huge concern for these industrialists. Therefore, they wanted to approach this new project differently and look at other methods of construction to try and fireproof their investment. Robert Darwin, a member of the Lunar Society, heard of the project and funded Charles Bage, an influential engineer, to work with ironmonger William Hazeldine, to design the building. It was decided that a cast iron frame structure should be used to prevent devastation from fire; a novel approach and an untested construction method. It was a speculative build as no one knew if it would work. Back then there were no CAD systems to work out loading forces and structural integrity, so a small model was made which was loaded until breaking point. The design was then refined, tested again and then upscaled to what is still standing on site today, over 200 years later. As already mentioned, it was a building of firsts:
Architectural legacy - 1st, 3rd and 8th oldest cast iron framed buildings in the world on one site
Steam-powered – up until this point, most mills were situated next to the river and water powered. This new Flax Mill was strategically built next to a canal with the forethought of accessing the fuel by horse-drawn barges on the waterway and large engines built to create the steam to enable to efficient processing of the flax into a fine thread for clothing and coarse for ropes
Cast iron guttering – this had never been introduced into architectural plans before
Artificial lighting – in 1805 Watt successfully developed a gas supply and network in the building, artificially lighting the factory
Fixings – made of cast iron columns and beams, a new fixing method was devised to tie them together. Individual nuts and bolts were made specifically for each meeting point, so good luck if you undid them all at once and needed to put back together
During the time of construction, there was a tax on bricks, so the entrepreneurs found a workaround by making larger hand-made bricks – value engineering even in those days! By creating a single brick encasing for the iron structure it also meant there was more floor space. It was so innovative and clever for its time. It had a varied history thereafter;  
Fielden Clegg Bradley Architects have beautifully reimagined this space; modernizing the interior, yet retaining the legacy of the original architecture and lines of the structure. The painstaking and considerate work is being carried out by contractors Croft Building and Conservation Ltd, who are well versed in working with sensitive historic buildings. In 2020, the fit-out will be underway, preparing an interpretation space on the history of the building on the ground floor, as well as temporary exhibition space and a cafe. The upper floors will provide 28,000sqft of commercial space, generating an income to support the ongoing maintenance of the building when it finally re-opens in 2021.
Sitting empty for many years and on the Heritage at Risk Register, Historic England's Shrewsbury Flaxmill Maltings project is a testament to the importance of bringing our empty buildings back to life. It has brought great civic pride to the local residents, in a rather run-down area of Shrewsbury. Not only will it bring an economy to Ditherington along with jobs, but it has also kick-started the regeneration of the Northern Corridor running from the town Centre, out to the Flaxmill Maltings. The Dragon on the Hill, overlooking the rolling hills of Shropshire, will soon be sitting proudly once again. The building which launched 1000 skylines is an architectural legacy, now preserved for many more years to come.