Peace and quiet restored to Roman inspired concert hall
Category:
Project Profile
Tags:
Acoustic secondary glazing, heritage, refurbishment and conservation, conversion
As part of the 34 million refurbishment of Birmingham Town Hall, Selectaglaze was consulted to address the problem of noise ingress.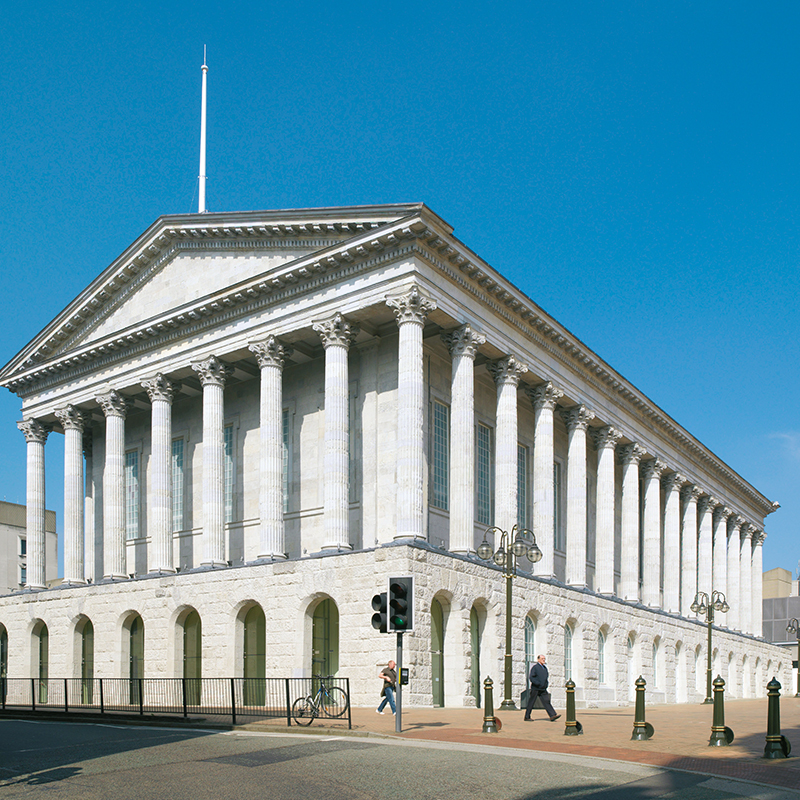 Birmingham Town Hall
The concert hall's original single pane windows were failing to keep out the ever increasing noise of traffic from its surrounding streets. Traffic noise was routinely intruding into the quiet sections of concerts.  Built in the 1830s in the Roman revival civic architectural style, Birmingham Town Hall was designed by Joseph Hansom (of 'Hansom Cab' fame). This Grade I Listed building is inspired by the Roman Temple of Castor and Pollux. The original temple was built in Rome's Forum in 484 BC and subsequently rebuilt around 14 or 9 BC. It is known that Emperor Tiberius presided over its dedication in 6 AD. In order to raise the acoustic properties of the original windows, Selectaglaze designed a secondary glazing solution. The treatment consisted of 57 heavy duty secondary glazing units in total; 27
Series 40 (fixed)
, 27
Series 50 (side hung casements)
and 3
Series 80 (horizontal sliding)
. Each unit was bespoke to treat each individual opening and all glazed with 10.8mm Stadip Silence glass.     The three different unit styles ensured that the original sightlines and function of the primary windows were retained. The combined weight of the heavy duty frames and glass required the window openings to be reinforced in order to safely house the secondary glazing. In collaboration with Wates Construction, an ingenious combination of rollers, vacuum lifting gear and purpose built scaffolding was designed and created in order to position the secondary units so that they could be safely placed and fixed into their respective openings.
Peace and tranquillity
has been restored to the concert hall by this successful treatment. Secondary glazing has given the building the additional benefits of increased
thermal
integrity as well more
secure
windows.