Can we put the brakes on with SAP10
Category:
The Built Environment
Tags:
energy efficiency, sustainability, refurbishment and conservation
Given the importance of the built environment, how can we measure and assess its quality both now and in the future? It forms our homes, work and recreational environments. These man-made spaces can range from beautiful and uplifting through to downright ugly and depressing spaces. They can enhance health and well-being or, quite literally choke and depress us. Contributing
a whopping 40%
of all global CO2 emissions, the built environment is recognised as one of the chief contributors to global warming. Whilst energy used in buildings contributes to air pollution which is responsible for half a million deaths a year.
Thermovision existing building - two potential futures
Over the last decade research shows that the sector has seen a 10% rise in greenhouse gas emissions. It is calculated that if the built environment continues on this trajectory, it will contribute
415Gt of carbon dioxide
into the atmosphere by 2060. However all predictive models require it instead to achieve a net zero emission level by 2050. If this target is not attained, the planet will inevitably reach the 1.5⁰c tipping point; the stakes could not be higher.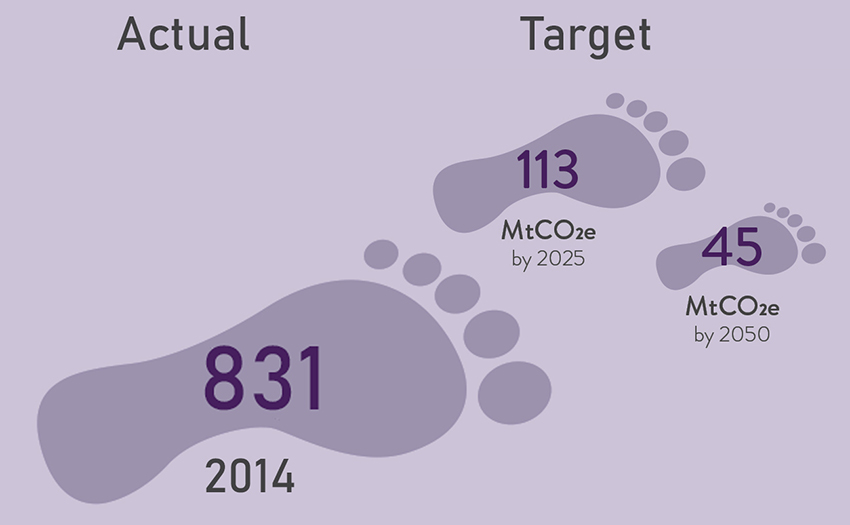 Current total emissions – required emissions for the built environment
Some undaunted, committed professionals, such as architects, are determined to make a difference. To date, 593 individuals/practices have signed up to
'Architects Declare'
. The pledge comprises 11 principles with if followed religiously will require a complete re-evaluation of their current practices. All the members of this new group accept they are at the beginning of the steep learning curve. The wide reaching, revolutionary principles enshrined in this declaration are concrete proof of how complex the issue of creating a green built environment in practice really is. Warning bells have been ringing since 1992 concerning greenhouse gases and their potential impact on our climate. Global action on climate change became formalised in 1994 when 'The United Nations Framework Convention on Climate Change (
UNFCCC
)' was ratified by 50 countries and carbon budgets were agreed between member countries. For the first time concrete measurable goals mapped out over time gave structure to this complex issue. As additional knowledge and research has increased our understanding, these budgets have been amended overtime to support the overall goal of avoiding catastrophic climate change.

Building and planning - creating and adapting the built environment
As a sector, the built environment is a puzzle where every single building involves contractors, builders, heating engineers, principal designers, clients, to name but a few, who all play their part in any one building project. In addition, one also needs to factor in materials, products and land considerations, together with building methods, transport and waste management. Then add to the mix an exponential expansion in green technologies and it soon becomes highly complex, on top of the hundreds of thousands of different types of projects running within the sector at any one time. So how can governments, built environment experts and private individuals help apply the brakes and stop an inexorable descent towards the 415Gt nightmare scenario? The standard assessment procedure (SAP), designed by BRE (Building Research Establishment) in the early 90s and enshrined in law in 1994, is a complex assessment tool. First of its kind, SAP is a process which collates all pertinent data to create a prediction of future carbon emissions for an individual building.
SAP, EPC and MEES, foundation blocks of the puzzle
SAP was designed to support the decarbonisation of the built environment by providing a tool that could determine pre-and post-construction, the carbon emissions of the building. Since 1994 it has formed part of Part L in the UK Building Regulations. All new builds, change of use and large conversions are required to pass the SAP assessment. If this is not attained they cannot legally be rented or sold. The current SAP which was added to Part L of the Building Regulations in 2012, is soon to be replaced with SAP 10. This version has been redesigned to reflect the world in which projects are currently being created; with carbon emissions for electricity use now based on a completely different set of figures. For some time experts have been questioning the accuracy of the current SAP assessments. SAP 10 has been updated to reflect the 59% decarbonisation of the sector over the past decade. Learning from experience, the BEIS (Business, Energy and Industrial Strategy) departments will ensure, that in the future real-time changes will be reflected within SAP, to ensure the accuracy of predictions/assessments going forward. With this tool forming the base of the
pyramid - SAP, EPC, MEES;
the accuracy of this assessment is crucial. SAP 10 is very powerful. However, how we chose to use it will ultimately determine the effectiveness or otherwise of our efforts to achieve our net carbon goal. With the old adage 'knowledge is power'; policymakers together with built environment professionals hopefully have, in SAP 10, a firm foundation on which to build a greener, more sustainable future. However, time will tell whether they have the determination, creativity and commitment to actually take control of the emissions problem.