Supersized secondary glazing
Selectaglaze was required to treat the windows on this nationally important Grade I Listed building with secondary glazing specified to reduce the noise ingress and provide protection against potential bomb blast in the vicinity. The openings were particularly large and impressive, standing at 3.5m tall x 2.0m wide and it was the architects wish that nothing interrupted the view of the original Georgian box sash windows.  To meet the requirements, Selectaglaze proposed their
Series 50 side hung casement
, glazed with a single pane of laminate glass - each unit weighed in at 220kg.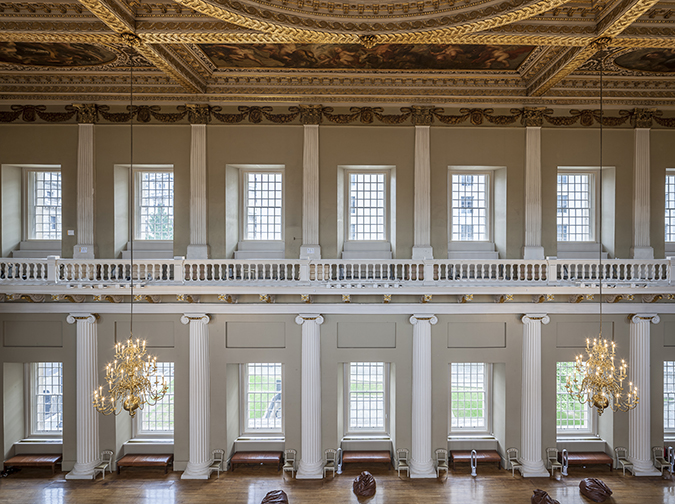 secondary glazing in situ
To accommodate blast rated secondary glazing of this size, steel sub frames had to be fitted to each opening. This required the existing reveal finishes to be removed in order to expose the structure for fixing and then be reinstated after. The window openings were located on the first floor in two levels; the lower level accessible from the floor, albeit 1.5m to the sill and the higher level were clerestory, 8m from the floor. The windows at the upper level of the two were accessible from a small balcony which could not be loaded with more than three people at a time and deemed to be unsuitable to use for the installation. Therefore; as the balcony could not be used, a very elaborate columnar scaffold design was commissioned to facilitate the installation. This design had to include a hoist runway system for each opening so that the secondary could be lifted up and trolleyed into the fixing position. The area in front of each window had to be kept clear of scaffold for access, hence the columnar design. If that wasn't enough, the floors could not bear the weight of the scaffold, so spreader plates had to be used with the scaffold being extended right through the building to the undercroft. To manoeuvre the units into the building and up the stairs required further scaffold and hoisting. The building, which is regularly used for private functions and has areas open to the public for viewing had a very busy diary, so work had to be completed within a very specific time period; therefore planning and coordination were paramount. All works were completed on schedule and the installation ran like clockwork - a testament to extensive planning and great team work.