When is a window too big?
Glass is deceptively heavy, how can something that you can see through and that is relatively thin weigh so much? Small increases in glass thickness, leads to large increases in weight; some examples of the weight with different thickness are (and this is just the glass alone): 
| | | | |
| --- | --- | --- | --- |
| Width | Height | Glass Thickness | Weight |
| 1400mm | 3000mm | 4mm | 42kg |
| 3600mm | 2800mm | 6mm | 151.2kg |
| 2000mm | 2000mm | 12mm | 120kg |
So what has this got to do with the Selectaglaze secondary glazing range?
Many systems in our range rely on small components to make them operational. The vertical sliders are balance operated which have weight limits, the horizontal sliders run on glide pads in tracks and to state the obvious, some have hinges.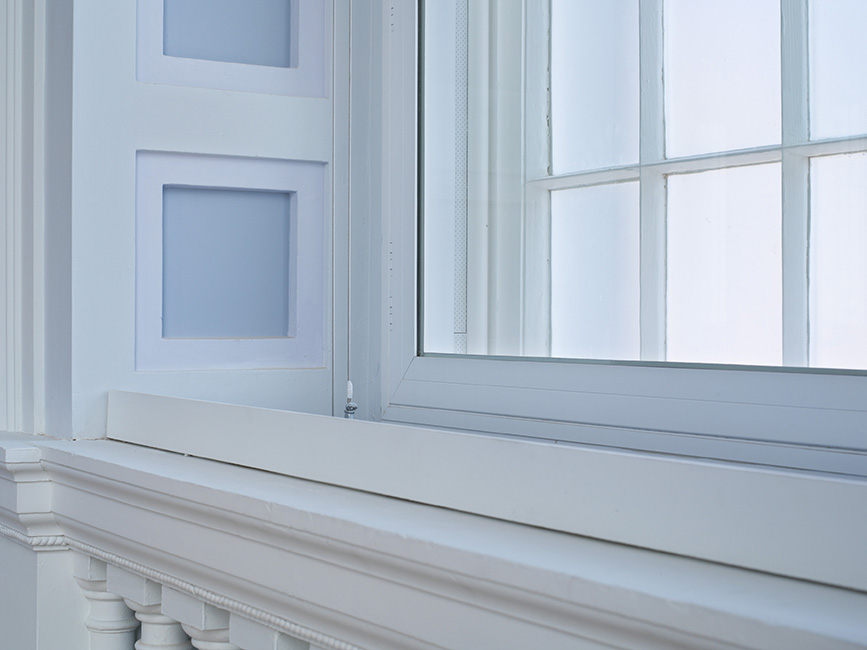 Series 50 example - Birmingham Town Hall
Over the last few years we have been asked to produce bigger and bigger units, which before the launch of the
Series 15
and
Series 25
, could prove tricky if a slimline profile was required. The smaller systems were being pushed to their limits, but we ensured the system were within safe working limits and fully functional. We have also been on sites and seen other secondary glazing systems which have been pushed up to and beyond their limits, where we believe they will fail or potentially cause injury.
Duty of care and our responsibility to our clients
With the desire to provide our clients and ultimately the end user the best possible experience with our secondary glazing, we set about designing two new systems; the Series 25 mid-range vertical sliding unit and the Series 15 mid-range horizontal sliding unit. These sit between the slimline and heavy duty ranges, achieving maximum heights of 3m and widths of 3m (2 pane horizontal slider). It means that very discreet options are available for sensitive projects where the windows are larger than we would comfortably produce in a Series 10 or 20, or if specialist glass is required. The sections are marginally bigger but the design has made them more robust to give the larger heavier panes of glass more stability and the overall unit more integrity. The largest unit we have produced to date was for the
Birmingham Town Hall refurbishment, which was a Series 50 side hung casement, weighing 250kg, 4.5m in height and 1.8m high
.  We believe we have a system suitable for any opening now. If we don't, our team of designers and engineers will work on producing a solution for you. If you are in doubt with which series is most suited to the opening you are wishing to secondary  glaze, please get in contact. We have a team of technical advisors at hand, who are more than happy to assist.