Make sure you're ready for MEES 2023
Stricter EPC regulations come into force on April 1. If you're a commercial property landlord, it will be unlawful to continue letting any of your existing portfolio if it has an EPC rating of less than E. And with ambitious government net zero targets to be met, that rating will only get stricter.
While there are a number of factors involved in boosting your EPC rating – from insulation to cladding – improving your glazing is vital, and Selectaglaze can help with just that. But first, let's look into what MEES 2023 means to you.
Don't be left counting the cost
Exemptions are available, but you'll need to register them first on the PRS Exemptions Register (find out more
here
). However, if you're not exempt, you'll need to comply – and fast. If you don't, an enforcement authority can impose both financial and publication penalties, and in a multi-let building, financial penalties could quickly add up. In fact, you could be looking at fines of up to £150,000.
And there's more to come
As part of its drive to make the UK net-zero by 2050, the
Government has set a target of lifting the minimum energy efficiency standard in to-let non-domestic buildings to 'B'.
Is secondary glazing the answer?
Of course, you'd expect us to say yes. But it's true. Take a look at the table below, and you can see for yourself how it performs compared with single glazing.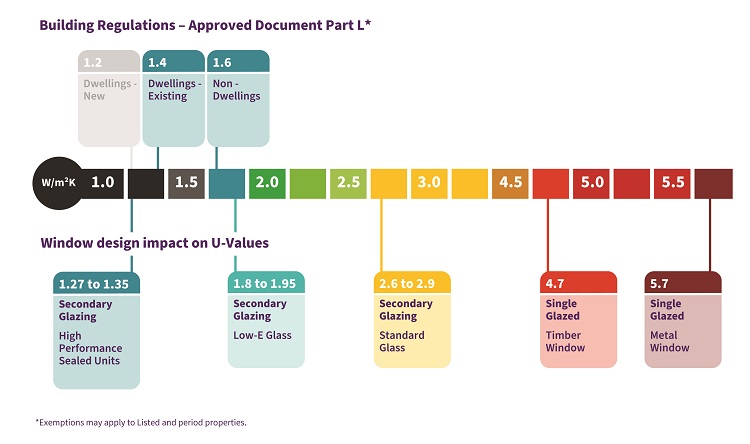 Retrofitted secondary glazing is also much less intrusive than full-scale double glazing replacements – which, as well as being undesirable and impractical, may not be permitted with Listed and historical buildings (the ones which are likely to be less energy efficient). There's less scaffolding, less manpower, less disruption, less time and less money. So if you'd like to know more, get in touch today.