Bank and office conversion to the Indigo Hotel
Hotel Indigo located in The Minories, on the edge of the Square Mile within the capital's main financial district, is a four star hotel, part of the world-class InterContinental Hotels Group. The Indigo brand launched in America in 2004 and arrived in the UK four years later. Each Hotel Indigo is unique and designed to reflect the local culture, character and geography of the surrounding area.
The bustling Minories where the 4* Indigo hotel is situated
Occupying what was formerly an office building and bank, the change of use to a 4* boutique hotel, conferencing facility and restaurant was a major architectural and interior design undertaking. During the design phase and after acoustic testing was carried out, it was decided that to make the conversion a success and meet the requirements, acoustic secondary glazing would be needed to supplement the new double glazing to achieve the desired levels of noise insulation.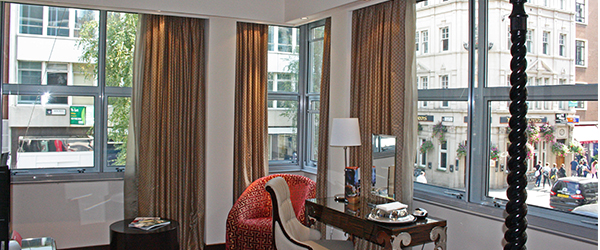 Duel aspect windows with grey powder coated acoustic secondary glazed frames
This in effect, created triple-glazing which offered noise insulation in excess of 45dB and further improved the energy performance of the window, reducing heating costs and improving sustainability.
46 bedrooms across the hotel were treated with acoustic secondary glazing, as well as the conferencing suite.
Quiet bedrooms due to triple glazing = double glazing + secondary glazing 
The secondary windows were made bespoke to ensure the best fit and included horizontal sliding, vertical sliding and hinged casement all finished in a grey powder paint to blend with the new external windows.