Secondary glazing incorporating interstitial blinds
Interstitial blinds are sited in-between two panes of glass. They are suitable for use in both secondary glazing when housed in a sealed unit, as well as primary glazing. They can be effectively used as windows or viewing panels. In the case of secondary glazing, they can be retrofitted in a Listed building for a number of benefits; to enhance thermal performance, improve noise reduction, provides privacy and aids to maintenance of ensuring a clean environment. Interstitial blinds come in three control types; magnetic, battery motorised and hard-wired motorised. The blinds can come in a range of styles and colours to suit the interior décor.  
All these colours, together with wood effects can be matched with the secondary glazing unit to produce a seamless effect.
Manufacturing the secondary glazing with the interstitial sealed unit
The interstitial blind unit together with the bespoke secondary frame are combined in our factory to produce the final window.
Series 41 double casement –Secondary glazing with interstitial blinds - Magnetic button operation detail
Interstitial blinds allow the occupant to control the amount of light allowed to enter the room as well as what can or can't be viewed through the window. The inclusion of interstitial blinds has become popular throughout the built environment for its versatility utility and with its sleek modern profile. Control of light entering through windows can support passive heat control and so contribute to energy efficiency measures. Interstitial blinds can be used to reduce heat gain in summer months, reducing the need for energy consuming air-conditioning systems. Interstitial blind units are particularly suited to healthcare facilities where natural light, privacy and clean environments are required. Studies have found that standard blinds, nets and curtains provide large surface areas for harbouring bacteria and allergens. Research has shown that even intermittent steam cleaning of ward curtains resulted in pathogens being discovered before and after the process. In contrast, the encased interstitial blinds, ledge free and flush secondary glazing frames presents a surface and environment that is more effective and efficient for cleaning.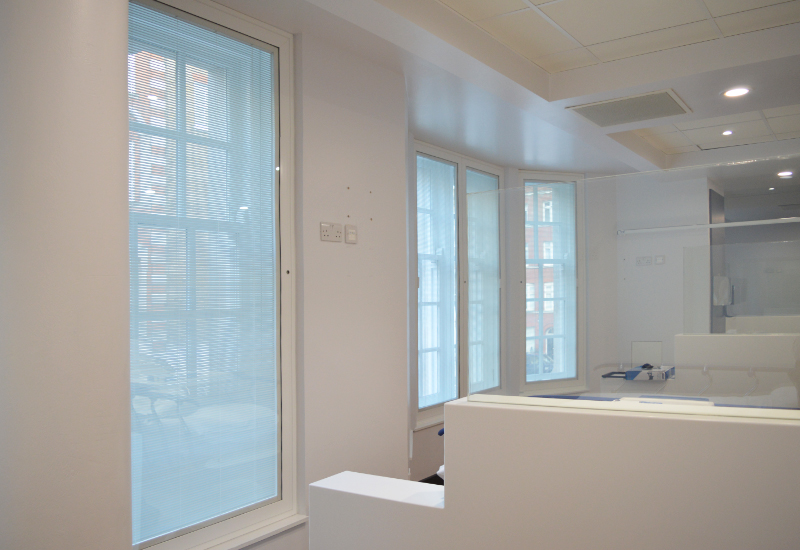 Fortius Clinic – Bentinck Street
The magnetic controls used to operate the blind remove the need for cords making them a safe option for areas where occupants are at risk of self-harm. As the mechanism and operative parts are sealed within the unit the blinds remain clean and in a good condition for far longer than their external counterparts making them an economic option. The degree of control of natural light they offer has proved highly beneficial to educational establishments; facilitating presentations, allowing control of daylight throughout the day in order to use digital equipment etc. Ease of control, cleaning and maintenance results in windows/viewing panels with blinds that retain their function and appearance for the lifetime of the unit. Combining interstitial blinds with secondary glazing facilitates the application of units with their benefits to existing buildings, particularly where primary single glazed windows have to be retained. The versatility of the product allows it to be used as an independent window/panel or door within commercial,
health
and educational applications.