Commercial Victorian architecture transformed to 21st century super-prime apartments
This Grade II Listed building required a specialist secondary glazing treatment to attain the maximum possible dB reduction. Situated on, what is in effect, a traffic island in one of the busiest parts of London; converting this ex-office building into luxury apartments was always going to be a challenge. However, with top class management, designers and craftsmen, this spectacular Victorian building has been transformed. One of the key aims of the redesign was to achieve a pleasant, warm and quiet internal living space. Although soundly built and with thick walls, the early 20th century construction methods proved no match to the challenges resulting from the building's exposed location. To make this change of use possible, developers has to obtain Listed Building Consent from their respective Conservation Officer, to ensure that they would be able to add both a thermal solid internal wall as well as
acoustic secondary glazing
, to bring the building up to 21st century standards.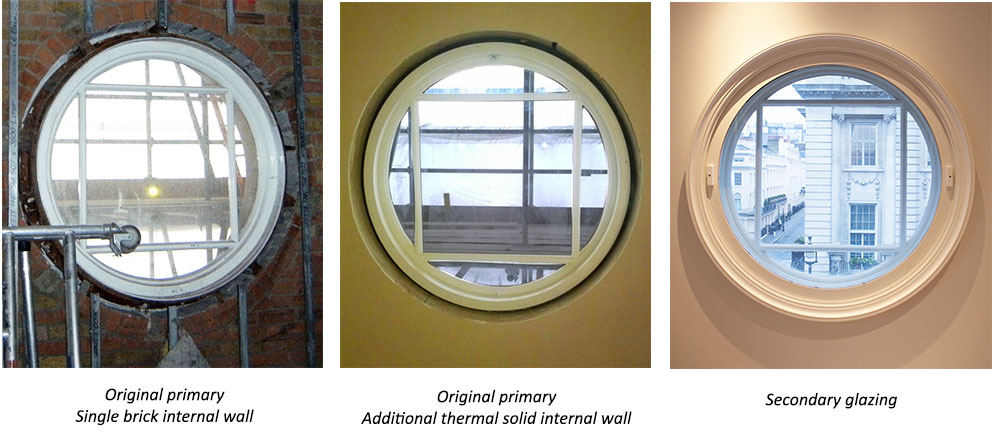 At street level the building has heavy traffic running round three sides; in addition it is also subject to the noise of sirens and airplanes 24/7. The original office building has single glazed sash, hinged casement and fixed light primary windows. These were glazed in 3mm thick glass which presented at best a 20dB barrier to the exterior. With very high traffic noise levels, a noise ingress reduction of 47dB was stipulated by our client to ensure that the acoustic properties of the new interior met the demanding requirements of the project. The Technical Advisor designed a treatment which conserved the look, feel and function of the original fenestration, whilst catapulting the benefits of the windows into the 21
st
century with the addition of secondary glazing. For areas of the building particularly vulnerable to noise ingress, the
Series 41
and
42 heavy duty
units were used housing 11.5mm laminate K glass. This has improved existing U-values from approximately 4.6w/m
2
K to 1.8w/m
2
K. The styles used in the building ranged from vertical sliding, hinged casements to fixed lights. The window shapes varied from traditional Victorian sash through to curves and circles. All the openings were treated with the secondary glazing placed 200mm from the primary windows. The cavity created serves to deaden the sound that penetrates through the primary window. The difference in thickness between the primary and secondary glazing, removed any danger of resonance between the two and thus aiding in reducing noise infiltration.

Primary window before and after secondary glazing installation
Great care was taken to maintain all original sightlines and functionality. The installation of bespoke secondary glazing has transformed the interior of this historic building. The project has retained a valuable example of Victorian commercial architecture for the future whilst at the same time facilitating its change of use to super-prime apartments.