Splayed, non-true, irregular reveals - challenges from the past
This beautiful Grade II* Listed building, was originally built in 1622 for the ecclesiastical education of children. It remained in use as an educational establishment until 1964. When the school closed, the building was abandoned and subsequently fell into disrepair. In 1970, the then derelict Jacobean House was saved from demolition by the architectural firm, Gotch Saunders and Surridge, who restored and converted the building into a residential property. The renovation took care in saving, where possible, the original features of Jacobean House including its beautiful windows. Many of the original windows retained their stone mullions and leadlight glazing, which have been meticulously restored and are a key design element of this beautiful building. However, original leadlight windows give little protection against the weather or the nuisance of twenty first century noise pollution.
Thermal and acoustic vertical sliding secondary
Great care was taken from the outset to ensure that the window style employed would add no additional sight lines. The secondary units needed to facilitate normal operation of the primary windows and allow for easy access for cleaning. 
Series 10 horizontal sliding
2 and 3 pane units meet all these requirements. The slimline profile has been carefully crafted to blend into traditional interiors whilst dramatically improving the
thermal
and
acoustic
properties of each window. Having agreed a course of action the next step in any project is for a surveyor to take detailed measurements of the openings. Creating bespoke secondary units is the only way to guarantee an optimal installation, maximising the required benefits.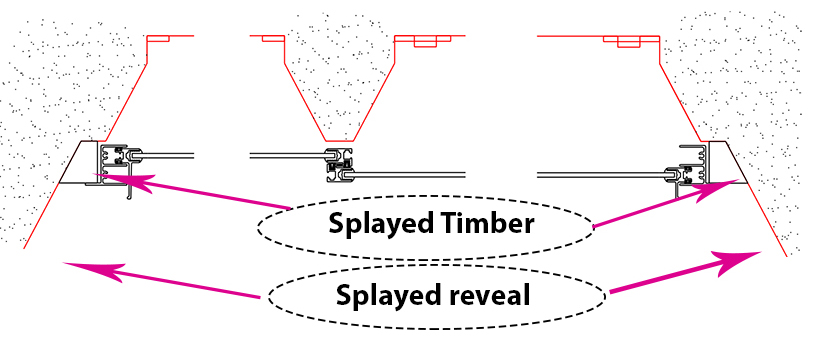 Splayed reveal
Surveying an older property requires the expertise of an experienced surveyor. Jacobean House posed many challenges; each window reveal presented its own unique proportions, splay (both horizontal and vertical) and wattle and daub meant irregularities of fixing surface. Along with all these issues, the reveals were also, non-true, offering no straight baseline on which to place secondary glazing. Even after accurate measurements are taken and bespoke grounds produced, further scribing was required during installation to ensure that sub frames fitted snugly into each reveal.
Irregularities of windows externally
"The secondary glazing units have been a great solution to acoustic and thermal lapses in our home. We have been delighted with the work of the team throughout the whole process. No job was too big or complicated and the installers did a fantastic job in fitting the glazing.
As there are no straight lines in the house, each window had to be meticulously measured. One window was more challenging than the others, so Selectaglaze was more than happy to bring a surveyor in for a second time to re-measure and check the initial figures before the window went into production."
Comments Stuart Welch, proprietor of Jacobean House
.