Replacing poor quality secondary glazing with bespoke secondary glazing
One of our recent projects required the replacement of existing secondary glazing, which was not fit for purpose. It had been installed close to the original sash windows, leaving insufficient space between the primary and secondary glazing – which meant the operation of the primary glazing was very difficult and did not allow sufficient access for cleaning. However, the main purpose of the original installation was to reduce noise ingress. To achieve noise insulation, it is recommended that there is a gap or cavity of at least 100mm - 150mm (glass to glass). Sound is transmitted through a window by direct vibration of the glass. The larger air space created by secondary glazing decouples the movement of the inner and outer panes, which means they act as separate barriers, thereby reducing resonance and deadening the noise.
Wooden trim - masking packers
In the image above, you can see a wooden trim sits over/on top of the secondary glazing. This has been added to hide a gap between the frame and window opening, which has probably been filled with packers; indicating a poor fitting unit. If a tight installation isn't achieved and voids are packed between the secondary glazing and window surround, the effectiveness of the acoustic benefit will be compromised.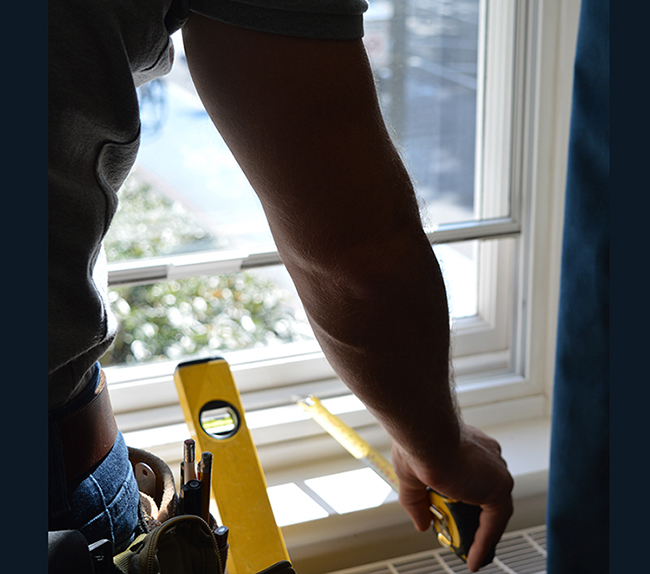 Surveying openings for secondary bespoke secondary glazing
Upon opening the sashes, our surveyor found that one of the counterbalances was broken; another indicator of a poorly specified unit. Some companies supply secondary glazing up to and over its maximum sizes, in relation to the recommended weight capacity of the balances. Therefore, they are put under great strain and over time and use they can distort; potentially ceasing to function completely. This poor quality secondary window is noticeable and unattractive. The shape and finish of the aluminium is out of keeping with the traditional Victorian primary sash windows. The original primary windows are beautifully crafted with ovolo mouldings accentuating the balanced proportions of the sashes which in turn sit comfortably into the box frame. If opting for a casement unit always check the type of seals used. For optimal thermal performance you should choose secondary glazing with compression seals as these are far superior to either brush or foam seals. To compliment traditional windows, secondary glazing must blend seamlessly with it. Although the acoustic benefits of secondary glazing can be striking, the combination of the two sets of frames should achieve this alchemy with a tight fitting installation, manufactured to fine tolerances, whilst at the same time remaining inconspicuous.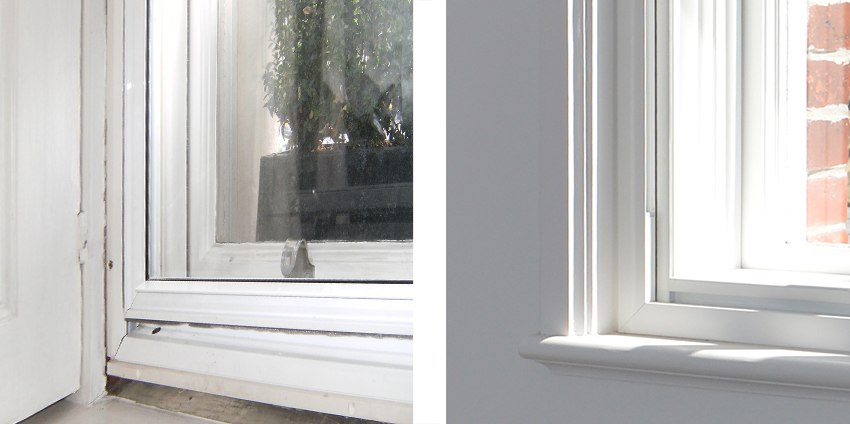 Poor quality secondary glazing compared to good quality, optimally specified, manufactured and installed
Good quality secondary glazing is constructed in high quality powder coated aluminium and can be coloured or produced in wood grain finishes to match its surrounds. Well-designed secondary windows, when expertly specified, should blend seamlessly with the original window.